The 15th Anniversary Fashion Show 2019
5th July 2019
Fly Together (一起飛翔)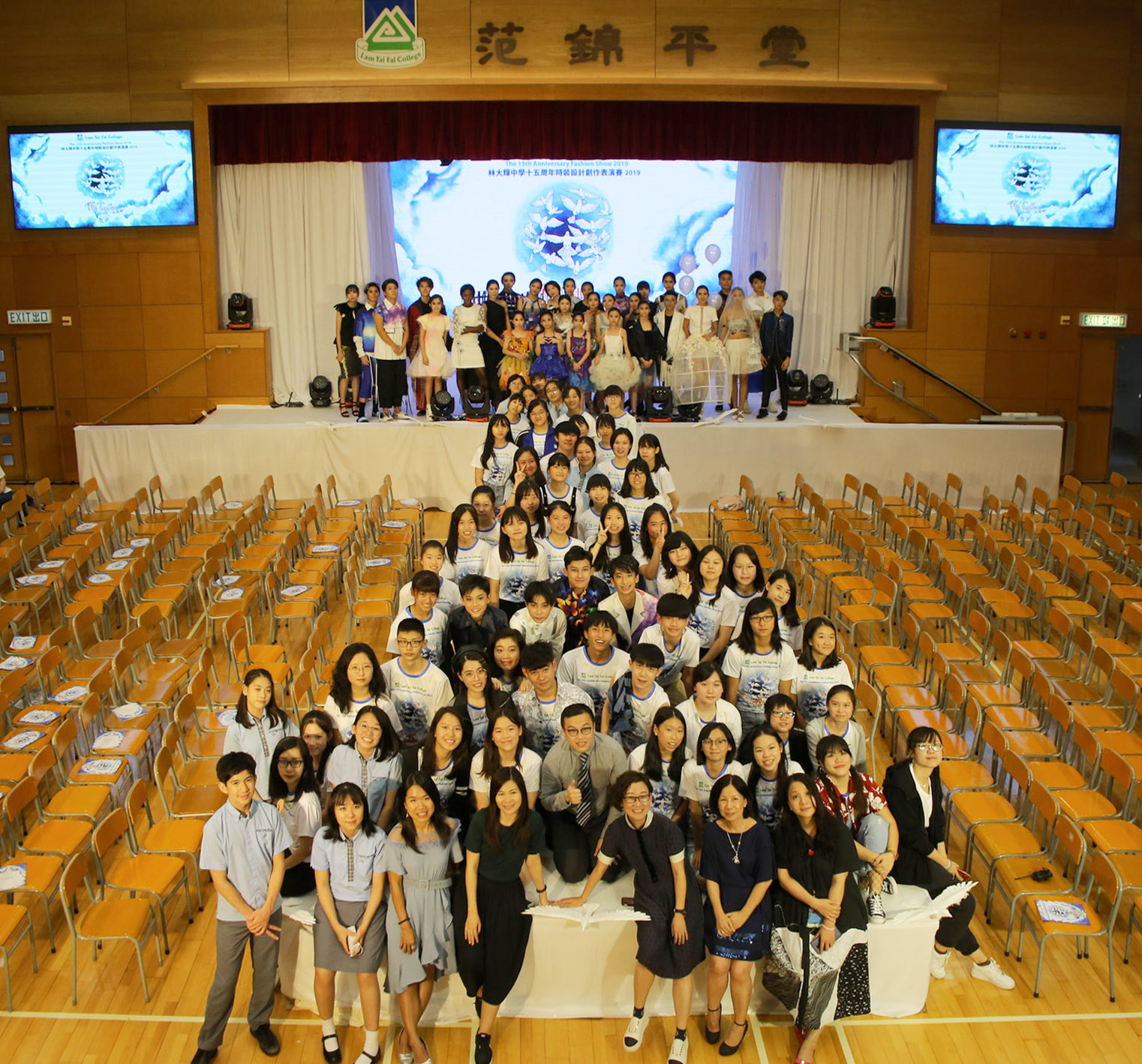 The 15th Anniversary Fashion Show of Lam Tai Fai College was successfully held on the 5th of July 2019. The theme of this year was " Fly Together " (一起飛翔). Students' dreams, expressed though their designs, were presented on the catwalk and awards were given to talented and promising student designers.
Our Annual Fashion Show serves as a showcase for the application of multi-disciplinary and diverse skills in the form of project-based learning. It does not merely provide a valuable learning platform for our Art & Design students but also an essential learning experience for all students as a whole. Not only as a unique platform for talented fashion designers, the event also presents an excellent opportunity to promote the spirit of enquiry, experimentation and exploration to reach new heights in ideas and designs. This Fashion Show featured the best collections of our student designers.
Ms. Camille Wang, the Chief-in-charge of the Fashion Show, together with visual arts teachers Ms. Kwan and Ms. Wong and student helpers, contributed tremendous efforts and time to put on this fabulous show. As a whole-school endeavour, all teachers and students agreed that it was an enlightening and educational experience.
We would like to thank Prof Jin Guang Teng, the President of The Hong Kong Polytechnic University as our Guest of Honour and Dr Miranda Lou, the Executive Vice President of The Hong Kong Polytechnic University as our honorable guests, our Supervisor, Dr. Lam Tai Fai, BBS. JP, our School Managers, Prof. Raymond Au Wai Man, Prof. William Wong Kam Fai MH, Prof. Chung Pak Kwong, Mr. Alex Wong Chun Bong, Mr. Wong Kwong Wai for their presence and support of our Fashion Show.
The Adjudicators were Ms Cynthia Mak, the brand founder and designer of Cynthia & Xiao, Dr. Haze Ng, Teaching Fellow of the Department of Design in the Faculty of Design and Environment in Technological and Higher Education Institute of Hong Kong and Ms Kawin Leung, Lam Tai Fai College graduate, Footwear Designer of Reebok Creation Center (Vietnam). The remarks from the adjudicators and guests confirmed the potentials of our aspiring designers as well as their tremendous talent.
We believe that we have produced a show of outstanding quality which serves to motivate all involved to strive for further excellence in the coming years.
The results of the competition are as follows:
Group
組別

Name of the work
作品名稱

Eng Name
英文姓名

Class and Chi Name
班別及中文姓名

Overall Grand Prize

1

Altitude

S5A CHAN Cheuk Him,
S5A HEUNG Wing Lam,


S5A HO Nok Hin,




S5A TSOI Ka Chuen,




S5E NG Tsoi Yi

S5A陳卓謙,
S5A香穎琳,
S5A何諾軒,
S5A蔡嘉銓,
S5E吳采兒

Champion

12

Fly to the Dream

S5A LAU Nereida Wing Lam,
S5B HO Hing Ning,
S5B LIN Yitong,
S5D HE Chenwei
S5A劉穎霖,
S5B何馨寧,
S5B林倚桐,
S5D何晨瑋

First runner-up

7

Flying Chess

S4A LAM Chung Yan,
S4A LAM Yan Yi,
S4B KEUNG Tsz Tung Jackie,
S4D CHAN Hau Ching,
S4B WONG Lai Ting Rosan
S4A林頌茵,
S4A林欣怡,
S4B姜祉彤,
S4D陳巧澄,
S4B王麗婷

Second runner-up

15

Struggle

S4A LEE Lai Hang,
S4A NG Ka Yan,
S4B WONG Anna,
S4B WONG Tsun Yin,
S4C LO Tsz Kwan,
S4D LAM Hei Tung

S4A李禮行,
S4A吳嘉欣,
S4B黃傲程,
S4B黃駿彥,
S4C羅芷君,
S4C林熙彤

Online Poll: Most Popular Design Award

15

Struggle

S4A LEE Lai Hang,
S4A NG Ka Yan,
S4B WONG Anna,
S4B WONG Tsun Yin,
S4C LO Tsz Kwan,
S4D LAM Hei Tung
S4A李禮行,
S4A吳嘉欣,
S4B黃傲程,
S4B黃駿彥,
S4C羅芷君,
S4C林熙彤

Winner of the 15th Anniversary Fashion Show T-shirt Design Competition

S4A CHAN Tsz Yan

S4A 陳芷茵