National Youth Games karate champion has found the perfect recipe for the winning edge
Lam Tai Fai College student Hinx Tang combines study and training to succeed in martial arts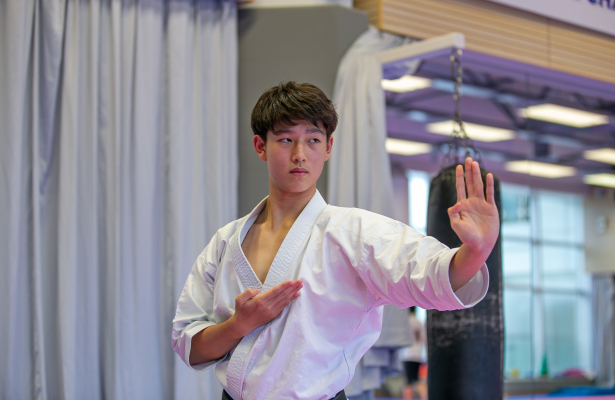 Hinx won a gold medal in Boys' Group A Kata event at the 2nd National Youth Games in Shanxi in August.
Photo: Kelly Ho/SCMP
As Hinx Tang Yu-hin stepped on the floor mat, he bowed slowly. He then closed his eyes and mentally went through his routine, remembering all the moves he had practised countless times during karate training.
When he opened his eyes again, he looked ahead and let out a loud shout. The teenager was in the zone – nothing outside the empty mat could distract him; he was ready to take down an opponent.
It may sound strange to those not familiar with the sport, but in karate, especially when performing a ritual set of movements called kata, athletes do not engage in an actual fight. Instead, they perform a series of offensive and defensive movements. To make these movements look authentic, participants need to imagine they are attacking an opponent.
Seventeen-year-old Hinx has practised this Japanese martial art for more than a decade. His father, a former coach of the Hong Kong representative team, introduced him to karate when he was just three years old.
The sport added an interesting dimension to their relationship, as Hinx's father is also his sensei, which means teacher in Japanese. As the son of the national team coach, it could be easy to assume that Hinx would feel forced to excel in competitions, but the teenager said he did not have to live up to anyone's expectations but his own.
"I have spent a lot more time with my dad because of the sport. We're more like friends than father and son," Hinx said. "It wasn't any different when my dad was coaching the national team. In fact, I liked him being there because he could point out my mistakes immediately. Now I have to video my performances and ask for his opinion."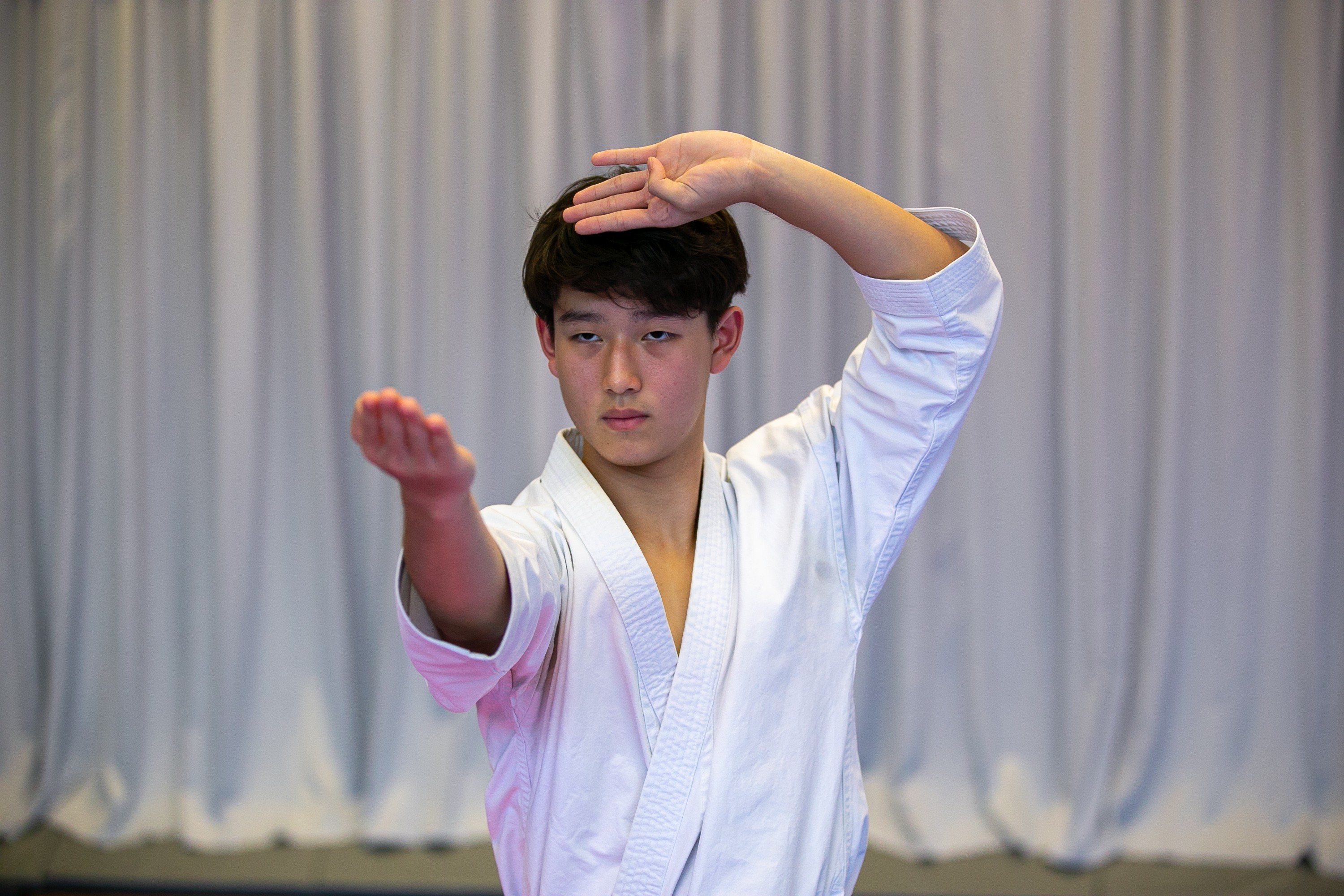 Hinx is not the only one of his siblings to follow in his father's footsteps. His older brother, Tang Yu-ting, started karate training a few years before him but was forced to give it up for health reasons.
As a result, Hinx decided to step into his brother's shoes and concentrate on competing in katas.
"One of the reasons why I love karate is because I thought my brother looked very cool with his moves," Hinx recalled.
"He used to be my role model. Now I look up to top-tier world champions," he said. The aspiring karateka (karate practitioner) won the Boys' Group A Kata Championship at the second National Youth Games in Shanxi (山西) in August, a bronze medal in the Male Cadet Kata event at the 17th AKF Cadet, Junior U21 Championships in Japan last year, and a gold medal in Male Junior Kata at the 2018 National U18 Series – Final Stage, on the mainland.
Reflecting on his performance at the national youth games, Hinx said he was not surprised by his win, as his results in previous all-China tournaments suggested he would perform well.
"I'm quite familiar with the standard of karate athletes in China. They've improved a lot, but they're a still a bit behind Hong Kong," he said.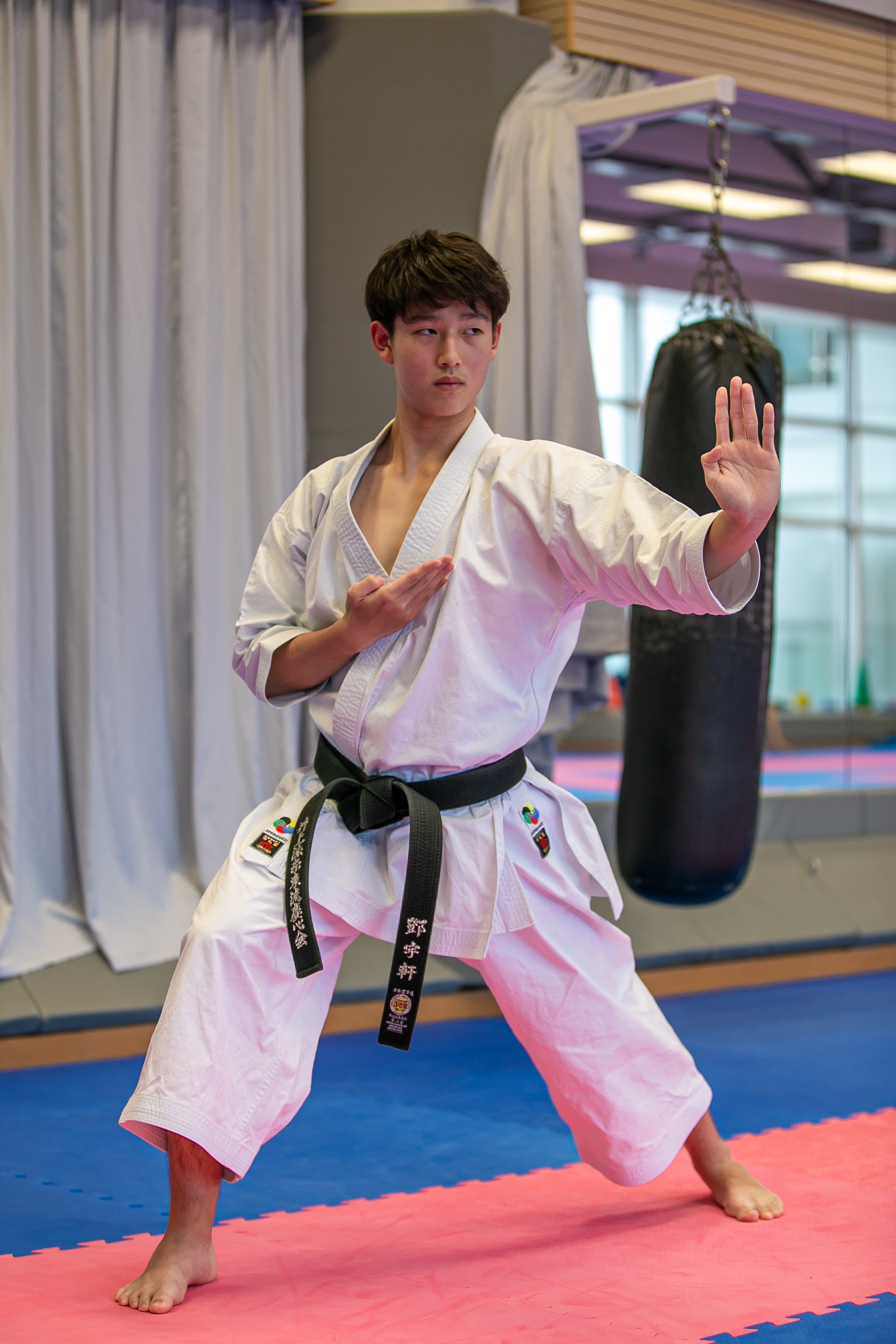 Last year, the Form Five student decided to become a full-time athlete while pursuing his studies on a part-time basis at Lam Tai Fai College, in Sha Tin. The school works with the Hong Kong Sports Institute to provide a flexible study timetable for student athletes. This allows teenagers like Hinx to begin their professional careers at a younger age, as well as helping to develop more local sports stars.
Hinx said he could not have attended as many overseas competitions if he was still studying full-time, with teachers who did not understand his priorities.
"It's been a lot easier for me to allocate time between training and studying. Now I can get most of my work done in school, keeping my mind free from worrying about schoolwork during practice and competitions," he said.
The karate star is now getting ready for his next competition – the prestigious 11th World Karate Cadets, Junior & U21 Championships to be held in Chile from October 23 -27.
"Previously, the best result I got in this competition was being in the top eight," Hinx said. "This time I'm aiming to make it into the top three."
Source : Young Post, 7th Oct 2019