Annual Fashion Show 201324th May 2013
Love‧Chiculture 戀‧華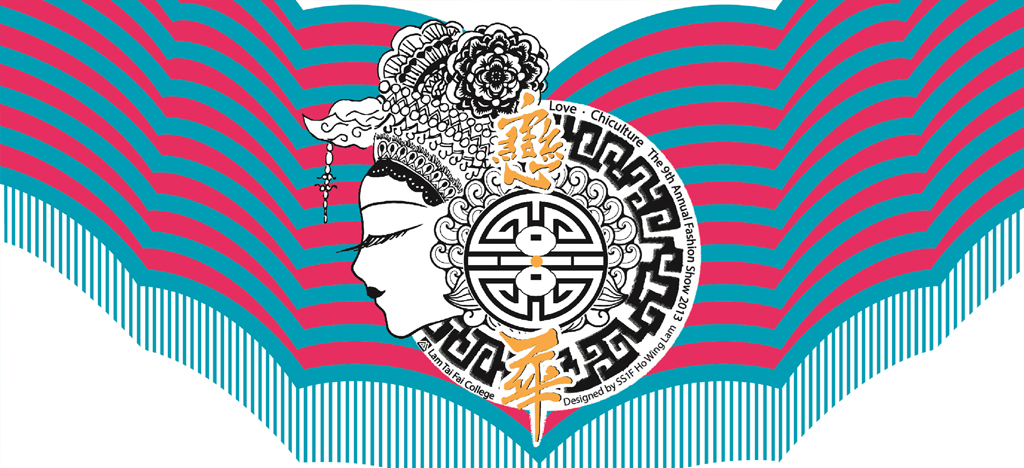 The Ninth Annual Fashion Show of Lam Tai Fai College was successfully held on 24th May 2013 (Friday). Echoing the main theme of the Art Department, "Chinese Art", the theme of this year's Fashion Show has encompassed the various elements of Chinese culture. As a result, the title "Love‧Chiculture" was adopted.
Our Annual Fashion Show serves as a showcase for the application of multi-disciplinary and multiple skills in the form of project-based learning. It does not merely provide a valuable learning platform for our Art & Design students but also an essential learning experience for all students as a whole. Not only as a unique platform for talented fashion designers, the event also presented an excellent opportunity to promote the spirit of enquiry, experimentation and exploration to reach new heights in ideas and design. The Fashion Show featured the best collections of our student designers.
Ms. Camille Wang, the Chief-in-charge of the Fashion Show, together with other teachers and student helpers, has contributed tremendous efforts and time to put on a fabulous show. As a whole-school endeavour, all teachers and students agreed that it was an enlightening and educational experience.
We were honored to have Mr Eddie Ng Hak-kim, SBS, JP, Secretary for Education of Hong Kong, as the Guest of Honor of this year's Fashion Show. Also, we were greatly indebted for the gracious presence of guests invited by Dr. Hon. Lam Tai Fai, BBS, JP, the Supervisor, to attend the Fashion Show. Other guests included Mr. Tse Wai Chuen, Tony, Member of Legislative Council; Ms. Lam Chung Yan, Mr. Leung Ka Fai and Mr. Pun Kwok Shan, Shatin District Councillors; and Ms. Yeung Kam Sheung, Jessie, Senior School Development Officer (Shatin).
Furthermore, we would like to deeply thank our School Managers - Mr. John Fan Kam Ping, BBS, JP, Prof. Philip Yeung Kwok Wing, Prof. Raymond Au Wai Man, Prof. William Wong Kam Fai, MH, Prof. Chung Pak Kwong, and Mr. Alex Wong Chun Bong, for their presence and support of our Fashion Show.
Our Adjudicating Panel was formed of widely acclaimed designers & professionals including Ms. Eastman Cheng, a well-known Hong Kong artist; Mrs. Winnie So, Chief Designer of Knitwear at Shanghai Tang and Dr. Ho Chu Po, Assistant Professor at Institute of Textiles & Clothing of The Hong Kong Polytechnic University. The remarks from the adjudicators and guests confirmed the potentials of the aspiring as well as the talented. We believe that we have produced a show of outstanding quality which serves to motivate all involved to strive for further excellence in the coming years.
The results of the competition are as follows:
Junior Form /
初中組
Group
組別
Name of the work
作品名稱
Eng Name
英文姓名
Class and Chi Name
班別及中文姓名
Champion
28
大宅門 The Gate of the
Grand Mansion
CHAN Wing Lam,
CHAN Chung Man
JS3C 陳穎琳,
JS3B

陳頌文

First runner-up
27
龍

Dragon

NGAN Wing Chi
JS3B 顏穎枝
Second runner-up
26
魚躍在花見


Leaping in Blossom

Kau Kar Man,
SIU Sin Tung
JS2B 裘家雯,
蕭善彤
Senior Form /
高中組
Group
組別
Name of the work
作品名稱
Eng Name
英文姓名
Class and Chi Name
班別及中文姓名
Grand Prize
11
紙

Paper

KWONG Yan Loi
SS3R 鄺恩賚
Champion
1
潛移‧墨化 DIM (

Deviate In Murk)

WAN Jansco
SS3R 溫美儀
First runner-up
9
新聞報導

News Reports

TSANG Hau Yee
SS3R 曾巧怡
Second runner-up
7
字‧迷

Labyrinth of Words

WONG Yat Sum Sarah
SS3R 王一心