Annual Fashion Show 2011
27th May 2011
'Fusion Dynamics 融.動力'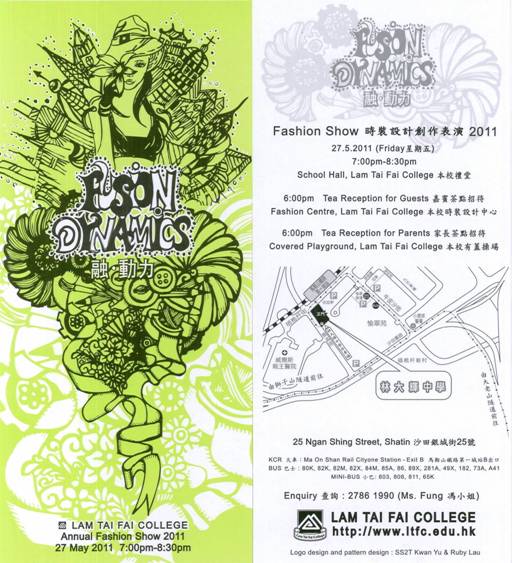 The Seventh Annual Fashion Show of Lam Tai Fai College was successfully held on 27th May 2011 (Friday). Echoing the main theme of the Art Department, "Art is Life; Life is Art", the theme of this year's Fashion Show will go around fostering a positive attitude towards life. As a result, "Fusion Dynamics" is adopted. We encourage students to fuse aspects of life into art and design. Our Annual Fashion Show serves as a showcase for the application of multi-disciplinary and multiple skills in the form of project-based learning.
Our Annual Fashion Show does not merely provide a valuable learning platform for our Art & Design students but also an essential learning experience for all students as a whole. Not only a unique platform for talented fashion designers, the event also presented an excellent opportunity to promote the spirit of enquiry, experimentation and exploration to reach new heights in ideas and design. The much anticipated Annual Fashion Show featured the best collections of our student designers.
Ms Camille Wang and Ms Wong Yuk Yee, the teachers-in-charge of the Fashion Show, together with teachers and students formed the Organizing Committee which contributed tremendous effort and much time to put up the fabulous show tonight. As a whole-school endeavour, all teachers and students agreed that it was an enlightening yet educational experience. The response to the show was overwhelming; the talents and gifts of our students are indeed enormous.
We are greatly indebted for the gracious presence of guests invited by our supervisor, Dr. Hon. Lam Tai Fai, BBS, JP to attend the Fashion Show, including Mrs. Cherry Tse Ling Kit-Ching, JP, Permanent Secretary for Education for the Hong Kong Special Administrative Region, as our guest-of-honor. Officiating party for the Switch-on Ceremony including Mrs. Cherry Tse Ling Kit Ching, Dr. Hon. Lam Tai Fai, BBS, JP,Mrs. Lam Tai Fai, Mr. John Fan Kam Ping, BBS, JP, Professor Raymond Au Wai Man, Mr. Alex Wong Chun Bong, Mr. Hon Ip Wai Ming, MH, Mr. Leung Ka Fai and Mr. Wu Kee Huen. Our Adjudicating Panel was formed of widely acclaimed designers & professionals which included Ms. Cheng Wai Kwan Vivian, Manager of International Affair Office, Hong Kong Design Institute; Ms. Tse Tak Fong Florence, Founder Member of the Hong Kong Fashion Design Association, Instructor 1, Department of Art & Design, CUHKSCS; Dr. Ma Wai Wing Ada, Assistant Professor, Department of Health and Physical Education, The Hong Kong Institute of Education.
The remarks from the adjudicators and guests have helped unleash the potentials of the aspiring as well as the talented. We believe that we have produced a show of outstanding quality which serves to motivate us to strive for further excellence in the coming year.
The results of the competition are as follows:
Junior Form / 初中組

Group

Name of the work

Class

Eng Name

Chi Name

組別

作品名稱

班別

英文姓名

中文姓名

Champion

4

光暗 Contrast

JS 2C, JS2D

WU Linghui, PANG Ka Hung

吳玲繪 , 彭嘉紅

First runner-up

5

鏡之舞 Dance of Mirrors

JS3B

HO Wing Lam

何詠霖

Second runner-up

7

星光 Star Light

JS2B

CHENG Ho Wun

鄭可媛
Senior Form / 高中組

Group

Name of the work

Class

Eng Name

Chi Name

組別

作品名稱

班別

英文姓名

中文姓名

Overall Champion

24

Fashion in Motion 動感時裝

SS1R, SS2E

WAN Mei Yee, HO Cheuk Ying

溫美儀 , 何芍瑩

Champion

22

雙重 Double Strength

SS2E

LI Man Ping

李漫冰

First runner-up

19

拉鍊的革命 Revolution of Zippers

6G 2

Ho Man Yiu

何蔓嬈

Second runner-up

12

時間 Time

SS1R

CHONG Kiu Ying, KWONG Yan Loi, LAM Ka Yu

莊翹瑛 , 鄺恩賚 , 林珈瑜
T-shirt design

Student Designer

Class

Champion

CHENG Kwan Yu 鄭鈞瑜

SS2T

LAU Kei Suet 劉機雪

SS2T

1st runner-up

TSANG Hau Yee 曾巧怡

SS1R

2nd runner-up

DIK Chun Yin 狄俊彥

JS3B