The Third Annual Fashion Show of Lam Tai Fai College held on 1 June 2007 was an overwhelming success. This spectacular Fashion Show was well-received by all the participants and audience. Guests and parents were impressed by the myriad activities in our school and budding talents of our students as well as the up to professional standard of the award-winning designs.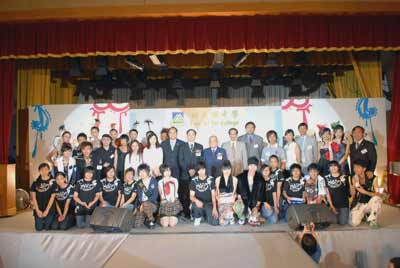 The Fashion Show, themed 「Campus Fiesta」 this year, aimed at integrating a wide array of learning activities into fashion design project. This year, a brand new approach in presentation was adopted in the Fashion Show. Specially-crafted performances including wushu, street dance, fencing and drama were incorporated into catwalk show, designed to prepare students for the unique educational experiences that LTFC provides. Student designers were encouraged to link up their school life and the five sub-themes: Campus Life and Spirits, Chinese Culture, Sport Spirit (2008 Olympics), Sub-culture and Western Culture. As a prelude to this grand occasion, a T-shirt design competition was held. To show appreciation to talents, the winning design was put on by all the designers as the official costume for the show.
| | |
| --- | --- |
| | |
Ms Camille Wang and Ms Florence Lam, the masterminds of the Fashion Show, together with teachers and students formed the Organizing Committee. Their hard work, dedication and sacrifice contributed tremendously to the preparation work and the success of the show. Indeed, the scale of the production warranted contribution from every single member of the school community --- parents, staff and students. To all, it was a rewarding yet eye-opening experience.
We are greatly indebted to the gracious presence of over 60 guests who are leading professionals and prominent figures from the textile and clothing industry invited by our Supervisor, Dr. Lam Tai Fai, It was also our great honour to have Professor Poon Chung Kwong, President of The Hong Kong Polytechnic University, Professor Pan Yong Hua, Director General of Education, Science and Technology Department, Liaison Office of the Central People's Government, HKSAR and Dr. Chan Sui Kau, Executive Chairman of YGM Group as our Guests of Honour. The graced presence of such renowned and widely acclaimed guests greatly boosted the morale of all the teachers, parents and students. All the student designers were specially enlightened and greatly inspired by the remarks from our guests and rapturous applause from the audience. The superb and impressive performance was widely reported by the press (News features from Singtao Daily - 2 June, Oriental Daily - 4 June, Wenweibo - 10 June, Takungpao - 11 June, Hong Kong Economic Times - 12 June, Mingpao - 28 June 2007, Singtao Daily - 28 June 2007, Singpao - 29 June 2007. . The school has received many congratulatory messages from our guests and audience and we would like to take this opportunity to thank every one once again for their support and encouragement. Having successfully produced a show of exceptional quality for the third time, we are confident to strive for further excellence in the coming year.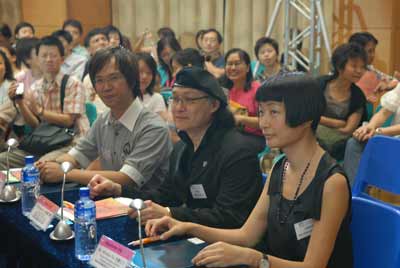 Feature Articles on the Newspaper:
◊ Oriental Daily (4 June 2007)
◊ Hong Kong Economic Times (12 June 2007)
◊ Singtao Daily (28 June 2007)
Winners of the Third Annual Fashion Show
A. Junior Form
Awards

Class

Name of Students

Theme

Champion

2D

WONG, Sze Ting

CHENG, Yu Chieh

CHEUNG, Fion Lok Yee

LEUNG, Ka Yuen

Flower Lovers (惜花人)

First runner-up

3B

Chau, Hiu Lam

Wong, Sin Chi

Streets In Black and White (黑白街頭)

Second runner-up

3A

CHEUNG, Nok Tung

KWONG, Tsz Kwan

Yell it Out
B. Senior Form
Awards

Class

Name of Students

Theme

Champion

4GS

4GS

4A

2

CHENG, Wing Hung

SO, Wai Ling

CHENG, Yuen Yi

Vogue Campus

First runner-up

4A

2

LEE, Pui Yee

MIO, Nok

Street Painter

Second runner-up

6A

LO, Yan Pui

Our Role (

角色

)
Winners of the T-shirt Design Competition
Awards

Class

Name of Students

Champion

6S

LIU, Ting Ying

First runner-up

2D

WONG, Sze Ting

Second runner-up

3D

LAU, Mo Sheung Grace

Merit

1A

LEUNG, Tsz Yu

Merit

2B

HO, Man Yiu

Merit

4A

2

WONG, Ho Ling Hayley