Visit of the Institute of Textile and Clothing Fashion Show 2005,
The Hong Kong Polytechnic University

Graduating students from the Institute of Textiles and Clothing (ITC) at The Hong Kong Polytechnic University (PolyU) displayed their creative talents at their graduation fashion show held on 16 June at Hotel Inter-Continental Hong Kong.

To instill in our students creativity, openness and aesthetic sensitivity for life-long learning, we were honored to bring 40 of our students: 20 of our best S1 Design Fundamental students and 20 of our best S4 Creative Fashion Design students to enjoy the show.
The Hong Kong Polytechnic University is the sole provider of tertiary education in fashion and textiles in Hong Kong and the institute of Textiles& Clothing is recognized globally as a leading institution in its field. The fashion extravaganza showcased creative works from a total of 45 of their graduates. We believe the visit was an exciting opportunity to provide our students with life-wide learning experiences outside the classroom.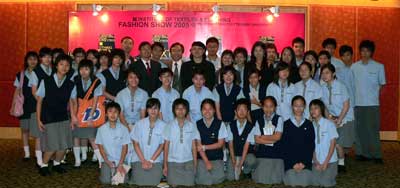 Elena, an S4 CFD student remarked, "It was a good experience watching the show. All of the designs were great and everyone got to see many different styles of clothing. The show was so inspiring. I want to be someone who can create beautiful designs in the future. The show helped me to explore my vision for design and I enjoyed it very much".
We also treasure this event as an unforgettable experience for our S4 CFD students who wish to pursue careers in the dynamic design industry.