The 11th Annual Fashion Show 20153rd July 2015
Splendid Life 璀璨人生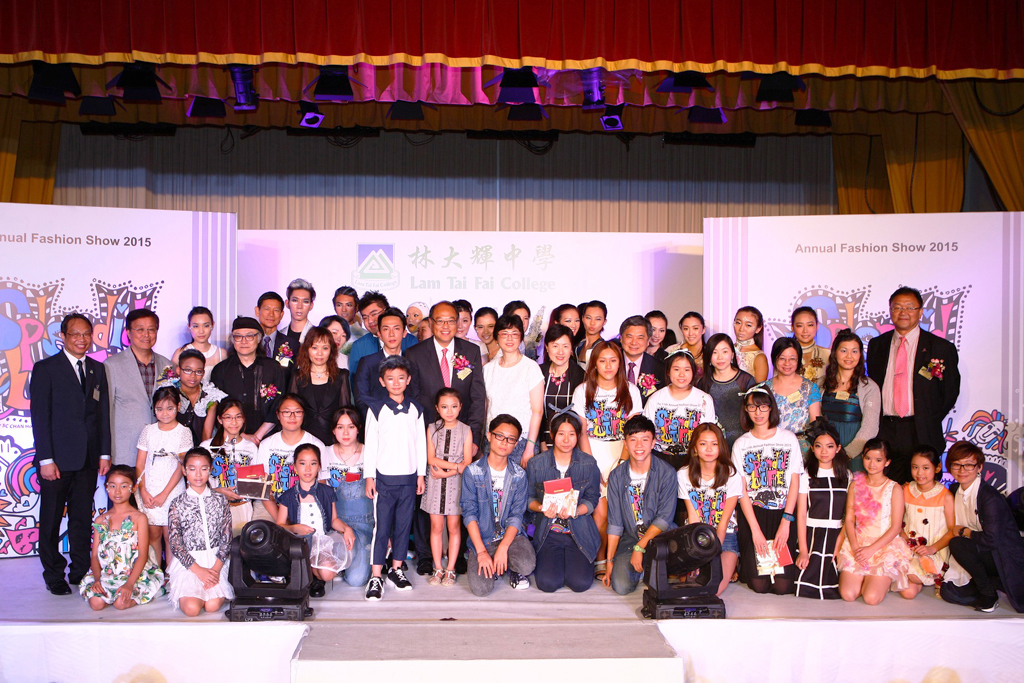 The 11th Annual Fashion Show of Lam Tai Fai College was successfully held on the 3rd of July 2015. The theme of this year is "Splendid Life" (璀璨人生), and 3D printing techniques are employed in the design of fashion accessories. Students' designs, inspired by their colourful lives, were presented on the catwalk and awards were given to talented and promising student designers.
Our Annual Fashion Show serves as a showcase for the application of multi-disciplinary and diverse skills in the form of project-based learning. It does not merely provide a valuable learning platform for our Art & Design students but also an essential learning experience for all students as a whole. Not only as a unique platform for talented fashion designers, the event also presents an excellent opportunity to promote the spirit of enquiry, experimentation and exploration to reach new heights in ideas and design. The Fashion Show featured the best collections of our student designers.
Ms. Camille Wang, the Chief-in-charge of the Fashion Show, together with other teachers and student helpers, contributed tremendous efforts and time to put on this fabulous show. As a whole-school endeavour, all teachers and students agreed that it was an enlightening and educational experience.
We were honored to have Mrs. Marion Lai JP, the Permanent Secretary for Education of the HKSAR, as the Guest of Honor at this year's Fashion Show. Also, we were greatly indebted for the gracious presence of guests invited by Dr. Hon. Lam Tai Fai SBS BBS JP, the Supervisor, to attend the Fashion Show.
Furthermore, we would like to deeply thank our School Managers - Prof. Philip Yeung Kwok Wing,

Prof. Raymond Au Wai Man,

Prof. William Wong Kam Fai MH, Prof. Chung Pak Kwong, and Mr. Alex Wong Chun Bong, for their presence and support of our Fashion Show.
O
ur 4 Adjudicators were Dr. Vanessa Li, Senior Curriculum Development Officer (Visual Arts), Education Bureau and 3 outstanding alumni in Fashion Design including

Mr. Kenax Leung (2006 LTFC Graduate, Brand Founder and designer of kenaxleung),

Mr. Unpi Lo (2008 LTFC Graduate and Senior fashion designer of G2000 Apparel Limited) and Ms. Kan Yuen Wai (2006 LTFC Graduate, Brand Founder and Creative Director of SKETCHAROUND. 4) Dr. Vanessa LI, Senior Curriculum Development Officer (Visual Arts) Education Bureau. The remarks from the adjudicators and guests confirmed the potentials of the aspiring designers as well as their tremendous talent.

We believe that we have produced a show of outstanding quality which serves to motivate all involved to strive for further excellence in the coming years.
The results of the competition are as follows:
Group
組別
Name of the work
作品名稱
Eng Name
英文姓名
Class and Chi Name
班別及中文姓名

Overall Grand Prize

13

Azure

HUNG Lok Kin,
CHUNG Cheuk Wa,
LAM Ching Yee Chloe
S4A 洪樂鍵
S4B 鍾卓樺
S4B 林靜儀

Champion

4

Imagine

Pang Kathleen,


YU King Tung

S6C 彭嘉紅
S6C 余璟彤

First runner-up

12

Snowy Forest

CHAN Ching Sze Cecilia,


PANG Lok Man

S5D 陳靜思
S5B 彭樂雯

Second runner-up

9

Equinox

SIU Sin Tung,


KAU Kar Man

S4A 蕭善彤
S4B 裘家雯
Online Poll: Most
Popular Design
Award

1

Sparkle

TONG Ki Yan,
OR Wing Yee,


WONG Sze Wing

S3B 唐琪欣
S3C 柯詠儀
S3D 黃思穎
Winner of the 11th Annual Fashion
Show T-shirt Design Competition

CHAN Hoi Ying

S5C 陳凱盈