The 10th Anniversary Fashion Show 20143rd July 2014
Pegasus 天馬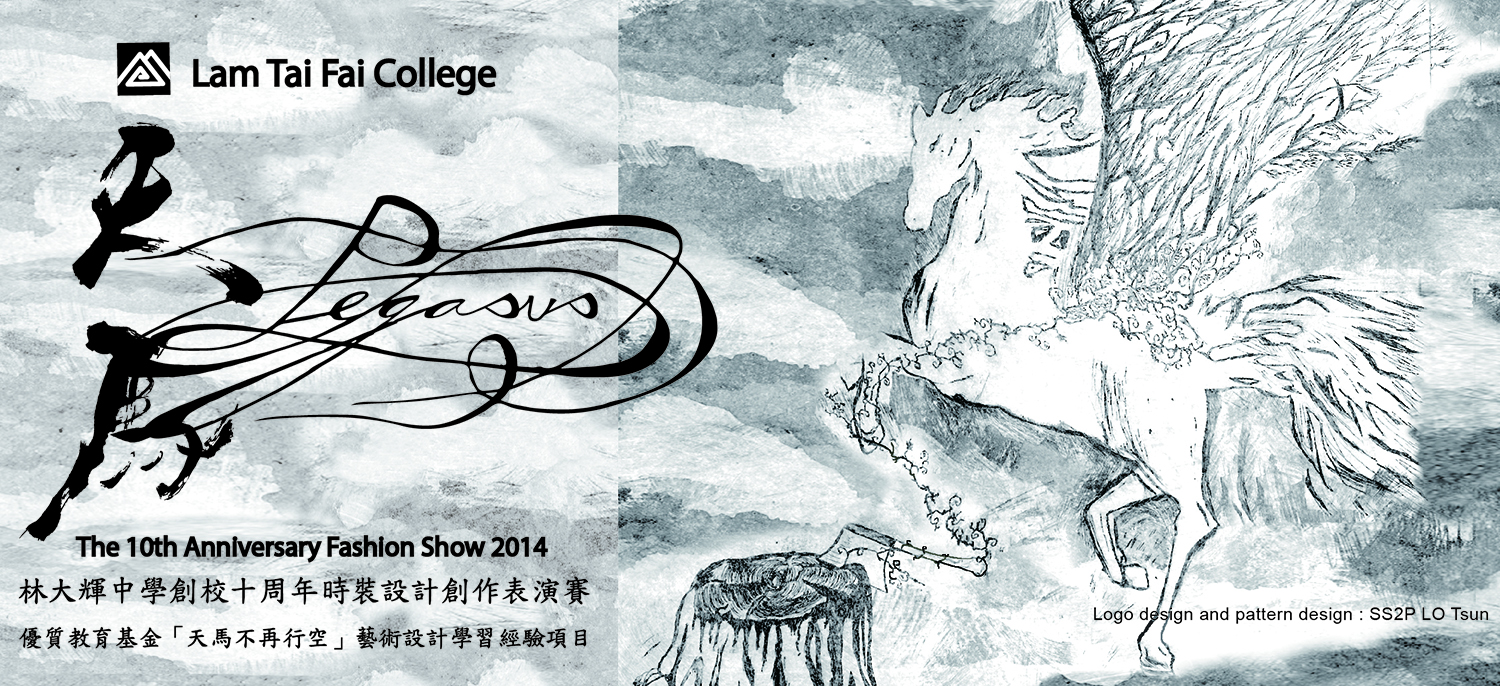 The 10th Anniversary Fashion Show of Lam Tai Fai College was successfully held on the 3rd of July 2014. Echoing the main theme of the Art Department, this year's Fashion Show encompassed an element of unrestrained imagination and the title "Pegasus" was adopted. 
Our Annual Fashion Show serves as a showcase for the application of multi-disciplinary and diverse skills in the form of project-based learning. It does not merely provide a valuable learning platform for our Art & Design students but also an essential learning experience for all students as a whole. Not only as a unique platform for talented fashion designers, the event also presents an excellent opportunity to promote the spirit of enquiry, experimentation and exploration to reach new heights in ideas and design. The Fashion Show featured the best collections of our student designers. 
Ms. Camille Wang, the Chief-in-charge of the Fashion Show, together with other teachers and student helpers, contributed tremendous efforts and time to put on this fabulous show. As a whole-school endeavour, all teachers and students agreed that it was an enlightening and educational experience.
We were honored to have Mr John Tsang Chun Wah, GBM, JP, Financial Secretary of Hong Kong, as the Guest of Honor at this year's Fashion Show. Also, we were greatly indebted for the gracious presence of guests invited by Dr. Hon. Lam Tai Fai, BBS, JP, the Supervisor, to attend the Fashion Show. Other guests included Mr. James Tien Pei Chun, Mr. Vincent Fang Kang, Mr. Frankie Yick Chi Ming, Mr. Ip Kin Yuen, Mr. Tony Tse Wai Chuen, Mr. Leung Ka Lau and Mr. Chan Kin Por, Members of Legislative Council; Mr. Leung Fuk Yuen, Chairman of Shap Pat Heung Rural Committee; Mr. Pun Kwok Shan and Ms. Lam Chung Yan, Shatin District Councillors. 
Furthermore, we would like to deeply thank our School Managers - Mr. John Fan Kam Ping, BBS, JP, Prof. Raymond Au Wai Man, Prof. William Wong Kam Fai, MH, Prof. Chung Pak Kwong, and Mr. Alex Wong Chun Bong, for their presence and support of our Fashion Show. 
O
ur Adjudicating Panel consisted of widely acclaimed designers & professionals including Mr. Koyo William Cheung, Founder and Creative Director of Koyo Jeans; Ms. Ning Lau, Founder of Digital Style Platform, Who ARE Invited and Ms. Ana Wong, Founder and Designer of Sugar da Pill. The remarks from the adjudicators and guests confirmed the potentials of the aspiring designers as well as their tremendous talent. We believe that we have produced a show of outstanding quality which serves to motivate all involved to strive for further excellence in the coming years.
The results of the competition are as follows:
Group 
組別
Name of the work
作品名稱
Eng Name
英文姓名
Class and Chi Name
班別及中文姓名

Overall Grand Prize

 

5

Phantom

NGAN Wing Chi,
LAU Tsz Ching,
LEE Nga Kei 
SS1P 顏穎枝
SS3R 劉芷晴
SS3R 李雅琪

Champion

7

Abstract

ZHOU Chin Fung,
LEUNG Wing Kwan,
LAI Wing Yung  
JS3C 周展鋒
SS1F 梁穎筠
SS1R 黎穎容

First runner-up

3

 Destroy

LEE Sze Long,
PANG Ka Hung,
YU King Tung
SS2E 李司朗
SS2R 彭嘉紅
SS2R 余璟彤 

Second runner-up

6

Sportswomanship

CHAI Martus, 
CHU Cho Wai,
FONG Tsz Kin 
SS3R 柴証
SS3R 朱祖蕙
SS3R 方梓健
Online Poll: Most
Popular Design
Award

8

Hopeful & Blissful

LEUNG Hok Yiu,
YICK Hoi Yiu,
YUNG Wing Lam
SS3R 梁學瑤
SS3R 易鎧瑤
SS3R 容頴琳