LTFC students displaying their artworks in Art Assembly
Having Visual Arts as one of the focus areas, the school always takes up a proactive role in facilitating students' development in the aesthetic aspect. This year, our students are honored to contribute their pieces in various media at the Visual Studies Exhibition of Senior Secondary Students' Artworks - Art Assembly, which is organised by the Department of Visual Studies, Lingnan University. The details of the exhibition are as follows:
Opening Ceremony:
20th March 2021 (Sat), 2:30 pm – 4:30 pm
Exhibition Period:
16th March to 1st April 2021 (Mon to Sat), 11:00 am – 5:00 pm
Venue:
Leung Fong Oi Wan Art Gallery, 2/F, Patrick Lee Wan Keung Academic Building, Lingnan University
Fee & Entry:
The exhibition is free of charge. Visitors must complete the online registration progress on https://tinyurl.com/nah82c5c at least one working day before the visit.
Despite the challenges that our budding artists are facing in the view of COVID-19, our students have been working exceptionally hard towards their dreams. It is believed that this invaluable opportunity to exchange ideas with university students and their peers will truly benefit them. Let's show our appreciation and support to our future artists!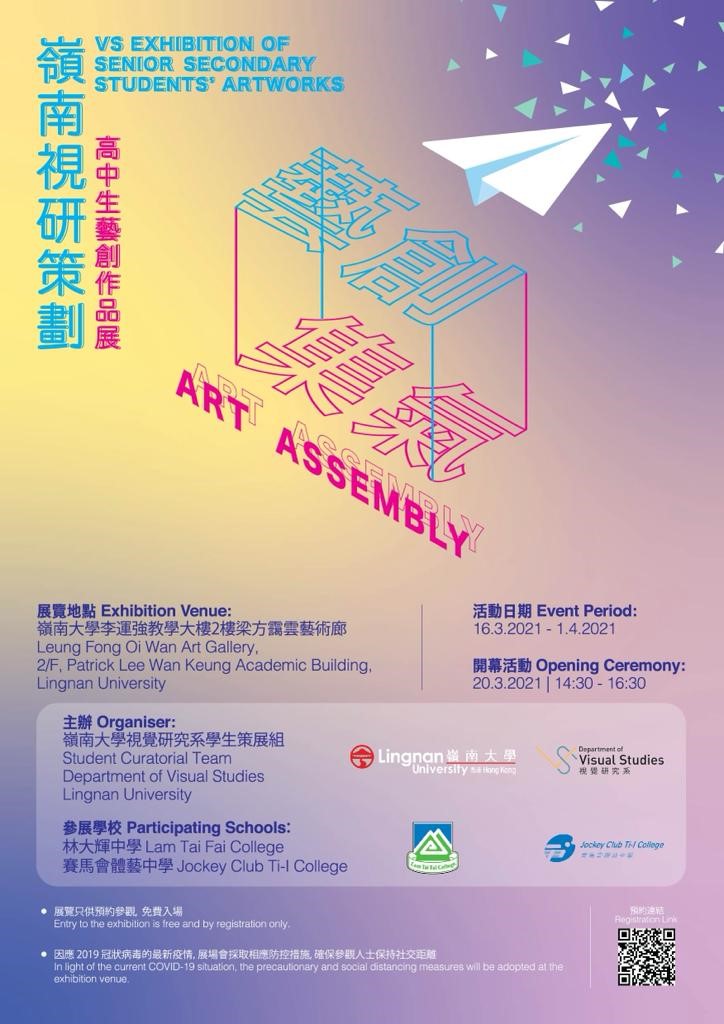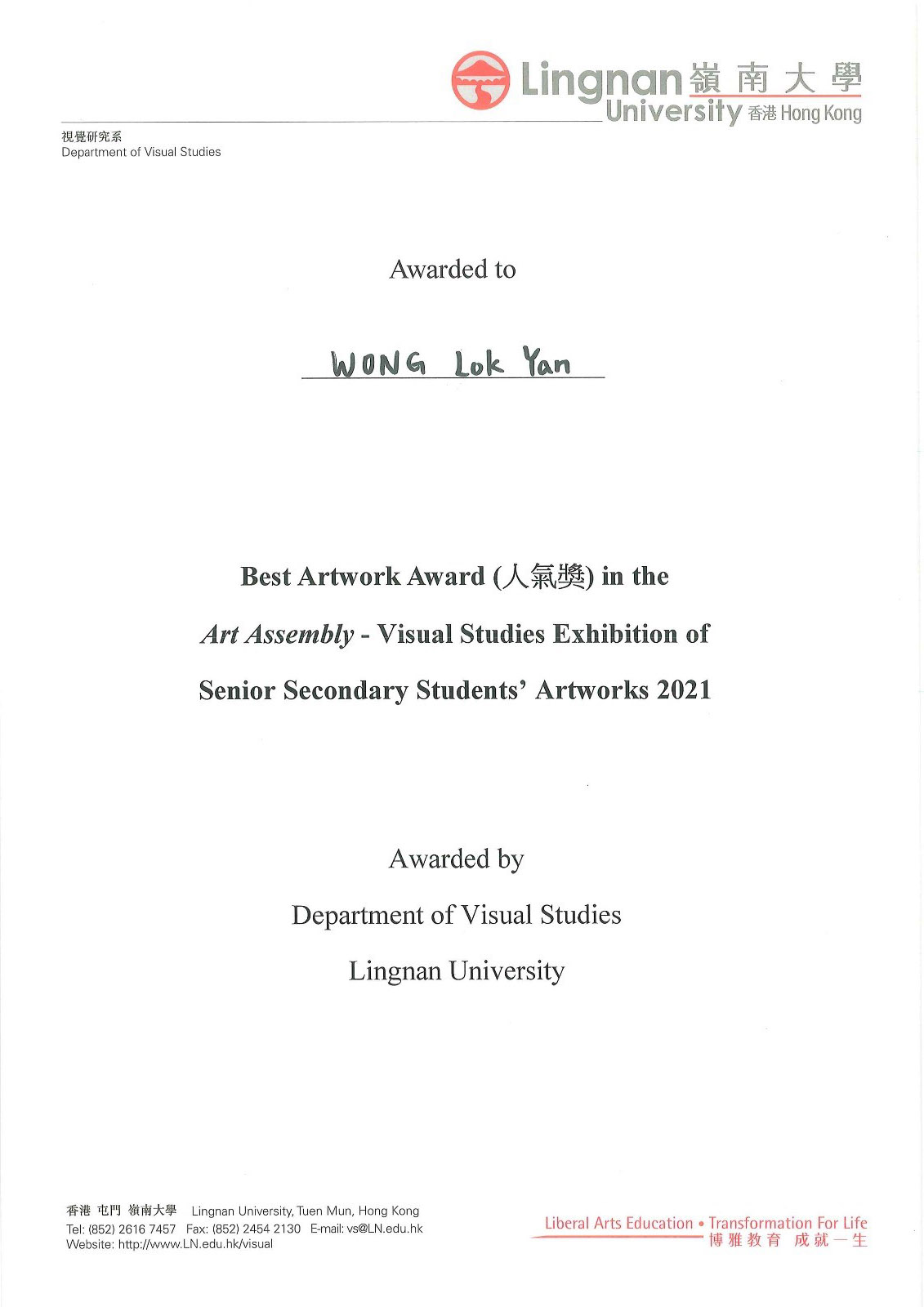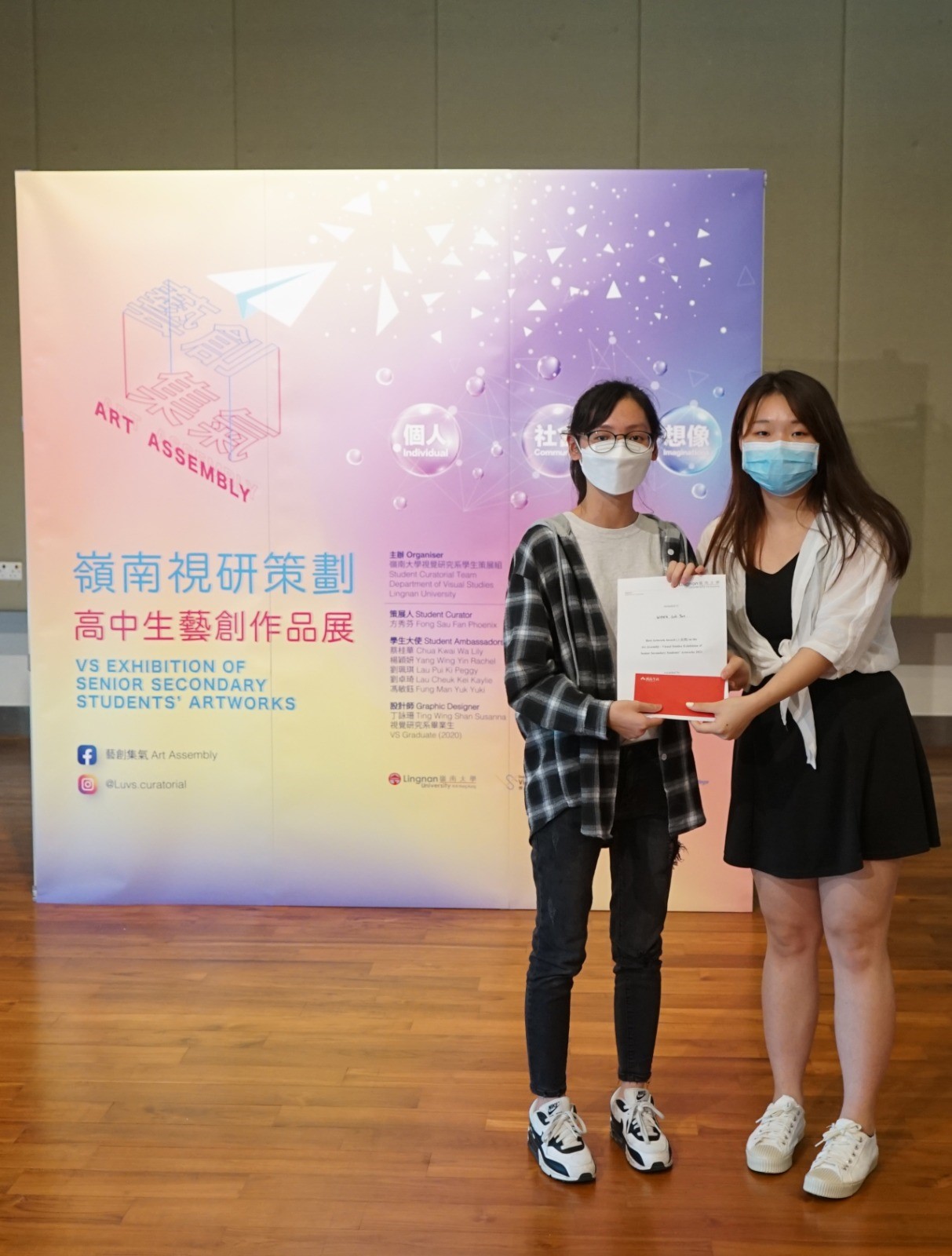 (Awardee: WONG Lok Yan (Left))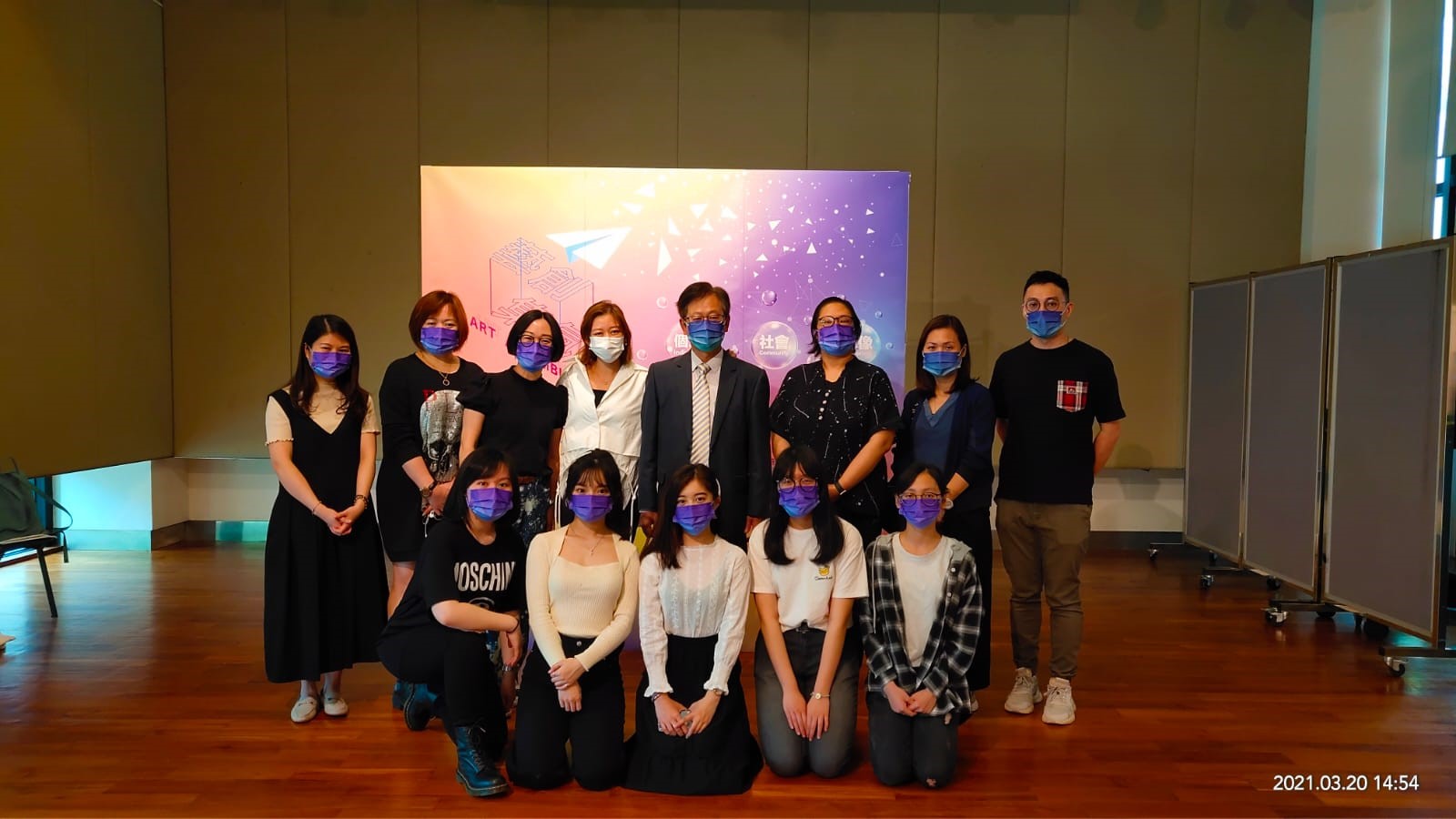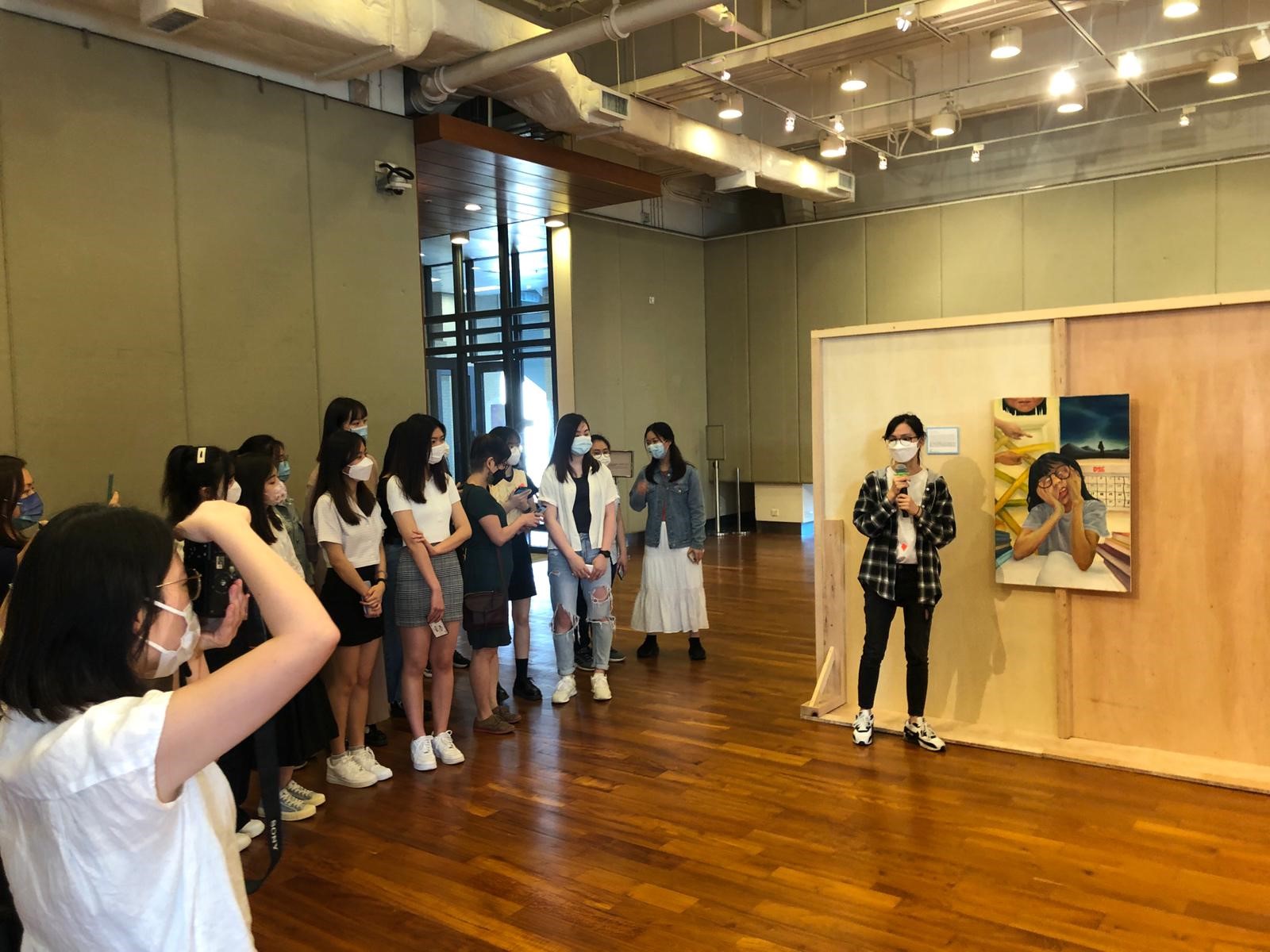 (LTFC students' Sharing)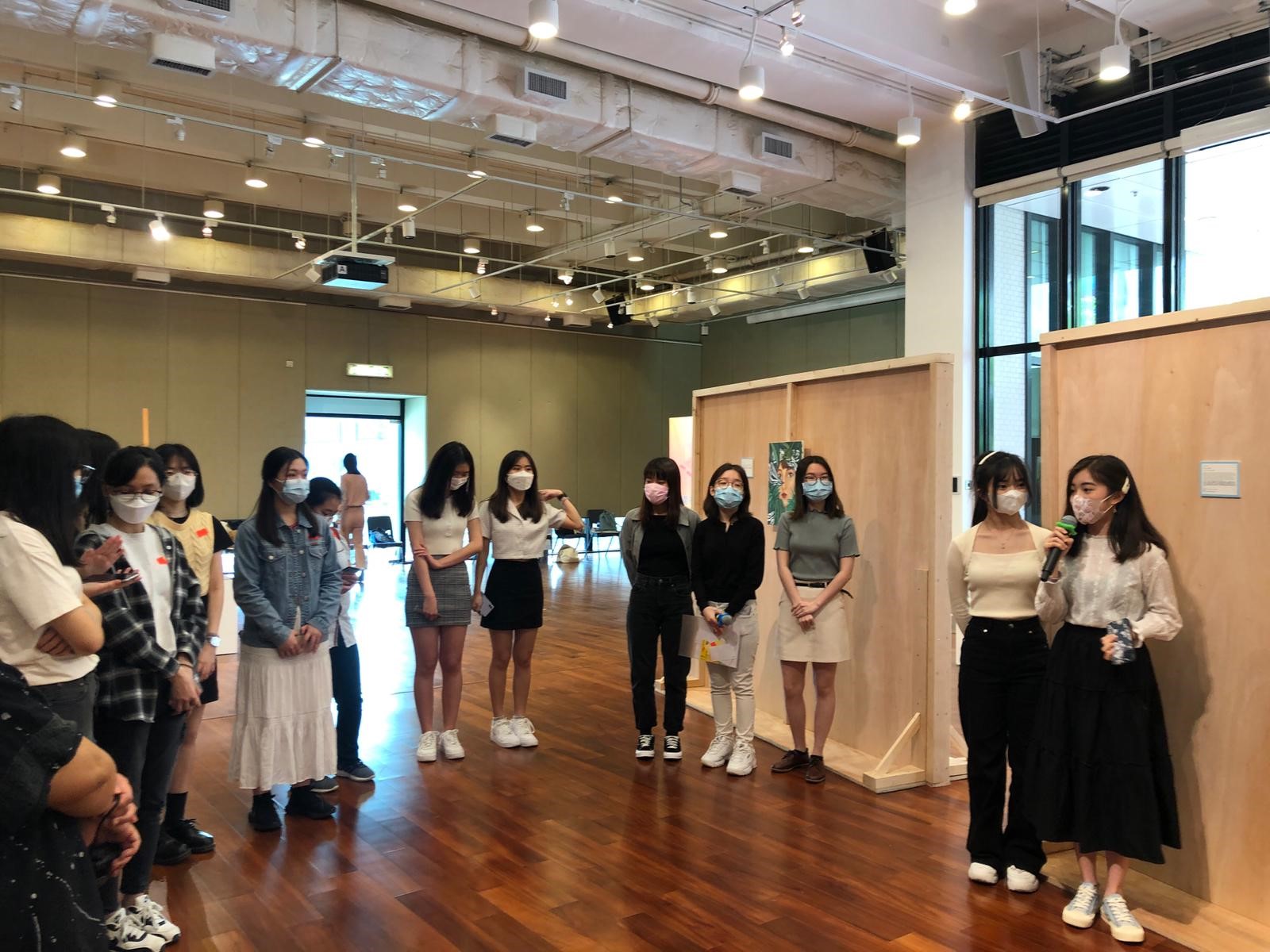 (LTFC students' Sharing)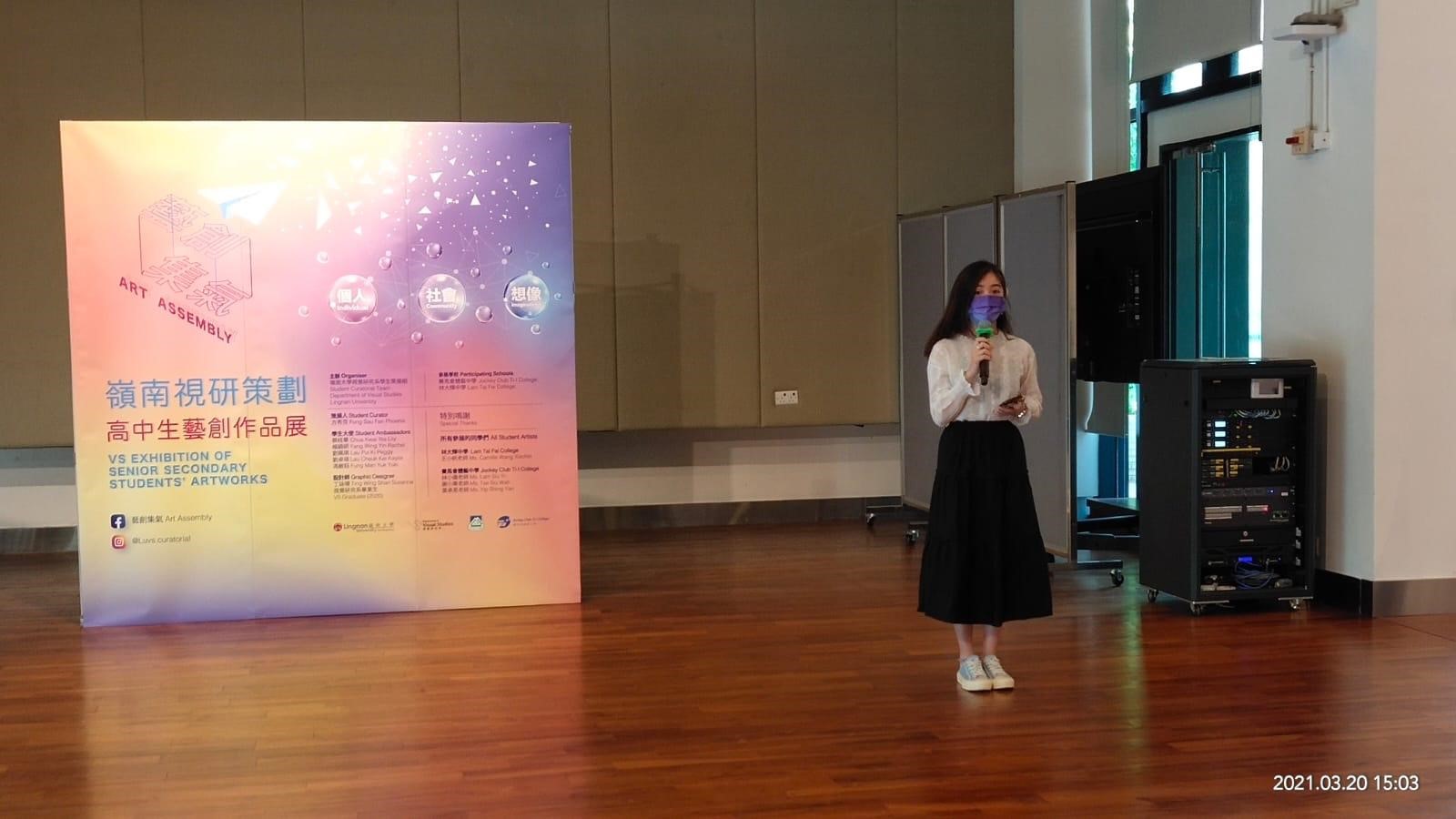 (LTFC students' Sharing)
"Art Assembly"藝創集氣 VS Exhibition of Senior Secondary Students' Artworks

Student Name List and Artwork

Class

Eng Name

Art Work

1

S6A

WONG Lok Yan

Panic 驚慌, Oil Painting, 61x91cm

In response to the composition of Edvard Munch's "The Scream," this self-portrait expresses the stress affiliated with studying and the fear of the future. Inspired by last year's outbreak of the coronavirus, which kept students at home studying, the online mode prevented her from successfully keeping up with the pace of classes. HKDSE has left her worried about her future, and she now lives in a state of panic everyday. The painting behind the main character can be seen as a night sky; the wind is strong, the desert is broad, and she could have used the stars as a guide, but instead she feels confused and has lost her sense of direction. There is a mask that expresses the oppression by elders and her inability to meet their expectations. The yellow bandage is tied the door so that she cannot go out; she has closed herself from learning and feels helpless.

創作者參考了愛德華·孟克 《呐喊》的構圖,以自畫像的方式去表達了對學習的壓力和未來的恐懼。自去年爆發的冠狀病毒,令學生們在家中渡過學習生活,令她有點跟不上進度,而日漸逼近的文憑試令她對自身的未來感到擔憂。畫中主角背後的畫可見一片夜空,風塵很大,沙漠很廣闊,本來可以看見指引自己的星星,但卻感到迷茫,迷失方向。

2

S6A

WONG Lok Yan

Fear I 恐懼一, Drawing, 29.7x42cm

This is a sketch that expresses unease and anxiety about the future and the present. Stress is represented by thousands of eyes that watch over her, as if their hands were strangling her neck and making it difficult for her to breathe. The inspiration for the sketch is based on the stress and anxiety that come from one's dissatisfaction with performance at school, feelings of doubt regarding classmates, and the failure to meet family expectations. The insects that crawled on her body made her feel like she was in danger and fear.

這是一幅素描作品,表達了對未來和現在的不安和焦慮。壓力猶如成千上萬的眼睛監視自己,彷彿有一雙手勒緊自己的脖子,無法呼吸。爬在自己身上的昆蟲,令她覺得自己置身於險境內,處身於恐懼中。

3

S6A

WONG Lok Yan

Fear II 恐懼二, Print-making, 21x29.7cm

This is a printmaking, like a butterfly in this painting, trying to take the buds of flowers, but fearing the wolf in front of him. If it chooses to bypass the wolf, it cannot get buds, so it is only in the face of it that it can get results. Although the future is confusing and worrying, there is also hope to be like a butterfly, breaking out, flapping wings to fly, in the face of their own fears, break through the self, like a butterfly which can eventually fly in the air. The mountains behind, despite the steep and danger on the way to hike, the magnificent scenery of the peak can be seen afterward.

在這版畫作品中,創作者自比為畫中的蝴蝶,想要吸取花朵的花蕾,但卻對恐懼眼前的野狼感到恐懼而卻步。如果蝴蝶選擇繞過野狼,就無法得到花蕾,因此只有面對它,才能得到結果。雖然對未來感到迷惘擔憂,但亦希望自己就像一隻蝴蝶,破蛹而出、拍動翅膀飛翔,面對自己的恐懼、突破自我,像蝴蝶一樣在空中舞動。後面的群山,登山途中雖然險峻挺拔,路途遙遠艱險,但登上巍峨高聳過後,相信必定能看到峰巒雄偉的景色。

4

S6C

CHAN Tsz Yan

Release after Struggle 掙扎後的釋放, Print-making, 21x29.7cm

"Release after Struggle" was created through printmaking. It reveals the sadness in reality when we encounter difficulties in life and we cannot figure them out immediately. The message expressed by this work is that we should let go of our worries and fears and boldly release our emotions and pressures. The artist uses the crow to suggest that releasing moods associated with depression will bring positive effects. Although the crow is a negative symbol in the eyes of the Chinese, the crow is understood as a lucky bird of happiness in Japanese culture.

《掙扎後的釋放》是版畫作品,創作者認為在人生的成長過程中會遇到大大小小的困難,當我們猶疑不決或未有能力立即解決問題時,或需要先發洩及面對哀傷的情緒。而這作品表達的信息亦正是提醒我們於需要時應該放下顧慮、害怕,大膽釋放自己的情緒和壓力。創作者以烏鴉表示釋放壓抑心情會帶來正面影響。雖然烏鴉在華人眼中有負面的象徵,但在日本,烏鴉則被作為吉祥幸福之鳥所供奉。

5

S6C

CHAN Tsz Yan

Comprehension 領悟, Oil Painting, 53x62cm

"Comprehension" is an oil painting that includes elements of Surrealism. The grandmother of the artist is the protagonist of the work and the pigeon is illustrated as the symbol of freedom. Theartist believes that after experiencing the ups and downs of life and releasing themselves in different ways, they will reflect on themselves and get to know themselves anew. Therefore, they will have a new insight into life and feel more at ease. These two artworks are correlated. "Release after Struggle" shows the boldness and desperate vent of depression at a young age, while "Comprehension" represents the free and easy spirit of old age.

《領悟》是一幅加入了超現實主義元素的油畫。 以創作者的外婆為主角,更以白鴿形象表現嚮往自由自在的感覺。創作者認為在經歷過人生的酸甜苦辣後,可以不同的方式釋放自己,自我反省,對人生有新的頓悟,從而讓自己更逍遙自在。《掙扎後的釋放》與《領悟》 是有聯繫的,《掙扎後的釋放》代表了年輕時的大膽,不顧一切地發洩抑鬱的情緒,而《領悟》則代表成年人面對逆境的心境。

6

S6D

LAM Hei Tung

Freedom 自由, Oil Painting, 40x50cm

"Freedom" is an oil painting. Dali's surrealism is used for composition and color. An oval drawing board is chosen to cater to the shape of the balloon makes the structure of the whole work more harmonious. The painting uses multiple media to show a more three-dimensional visual effect. For example, clouds are shown as cotton and the balloon line is also a real object. The concept of the work highlights the difference between reality and dreams. The body is separated from the head, and the human appearance on the balloon emphasizes the soul and desire to pursue freedom and dreams. However, in reality, there are various restrictions and constraints that hinder us to obtain true freedom.

《自由》是一幅油畫,其構圖與顏色採用了達利超現實主義風格。創作者選用橢圓形畫板以配合氣球的形狀,令整個作品結構更和諧。畫中採用多媒介展現立體的視覺效果,例如雲以棉花拼貼展現,氣球線也是實物。作品概念突出現實與夢想的差別,氣球上的人面突顯靈魂追逐自由夢想的渴望。

7

S6A

TIN Tsun Yat

Thirst for Freedom 自由的渴望, Drawing, 29.7x42cm

This artwork is about "freedom," portraying how a new generation of young people in pursuit of freedom is subject to inherent ideology and therefore cannot be successful. There is no fixed identification for freedom because the definition and pursuit of freedom is different for everyone. There is another world beyond the Earth: a wider universe. This is a self-portrait that combines oil powder and sketching.

作品表達了創作者對追求自由的思考:他認為年輕人在追求自由的道路上受到固有的思想限制,令追求自由之路久久不能成功。自由沒有固定單一的定義,每個人心中對自由的定義和追求都不同。少年身處於宇宙中,天外有天,世界不是只有地球,地球之外還有更廣闊無垠的宇宙。圖中的主角是以自己為藍圖,以油粉彩和素描兩種媒介結合而完成作品。

8

S6C

LUK I Chin

Release 釋放, Oil Painting, 60 x90cm

The work is inspired by the depressing lives of students in today's Hong Kong, and the mentality of facing general problems, such as the impact of the pandemic COVID-19 on students. The trapped girl is like a prisoner bird, trying to reach out to grab the feathers which reflect the creator's desire to get rid of the restrictions of her family and yearn for freedom in order to explore the world and escape the cage.

作品靈感來源於現今香港學生的生活,面對種種問題的心態。被困的女孩猶如囚鳥,嘗試伸手抓住羽毛,反映創作者希望擺脫限制,嚮往自由,探索世界,逃離囚籠。

9

S6C

LUK I Chin

Dream 夢境, Print-making, 21x29.7cm

Engraving, stippling technique, and alcohol are involved in this work to create a depressing atmosphere shrouded in nightmares. The inspiration for this creation comes from "Alice in Wonderland" and "Peach Blossom Spring." It represents the imagination of the artist herself wishing to escape from the control of her family and return to the dreamland to enjoy freedom.

作品以版畫、點彩技法以及火酒營造出被噩夢籠罩的氛圍。該創作靈感是來自《愛麗絲夢遊仙境》及《桃花源記》,想像自己希望逃離家人的管束,回到夢境,享受自由。

10

S6C

LUK I Chin

Release 釋放, Acrylic painting, 29.7x42cm

The work is inspired by the depressing lives of students in modern-day Hong Kong and the struggle to face general problems, such as the impact of the COVID-19 pandemic on students. The trapped girl is like a prisoner bird trying to reach out to grab the feathers, which reflect the creator's desire to get rid of the restrictions of her family and secure freedom in order to explore the world and escape the cage.

作品靈感來源於現今香港學生的生活,面對種種問題的心態。被困的女孩猶如囚鳥,嘗試伸手抓住羽毛,反映創作者希望擺脫限制,嚮往自由,探索世界,逃離囚籠。

11

S6A

NG Ka Yan

Guilt罪惡, Print-making, 21x21cm

"Guilt" is created through printmaking. It is inspired by the evil angel Lucifer, insinuating that everyone has a different dark side. For instance, a lot of cyberbullying cases can be observed because of insufficient surveillance on social media. The work shows an inner struggle. The devil opens the cage and waves to you to tempt you into the dark side. It represents a breakthrough of the last line of defense in your mind.

《罪惡》透過石版畫表達每個人均有不同的陰暗面,就如在社交媒體上就發生不少網絡欺凌。作品靈感來自罪惡天使路西法,呈現出人們內心的掙扎,當惡魔打開籠向你招手,你會否突破心裏最後一道防線?

12

S6A

NG Ka Yan

Lost迷失, Oil Painting, 40x50cm

"Lost" referenced the style of the Korean painter Joanna. It is a self-portrait that illustrates the creator's state of confusion. She is feeling trapped in regard to the future because she is preparing for the public exam. In the lost jungle, zebra patterns and green leaves represent protective colours, which implies one's timidness towards stepping out of the comfort zone.

《迷失》參考了韓國畫家Joanna 的畫風,是一幅自畫像,表達了創作者對未來感到迷茫受困的狀態。她正在面對公開試。以畫中迷失於叢林、斑馬紋和以綠葉作為保護色等元素,展示出不敢踏出舒適圈的困局。

13

S6A

2019-2020

LUK Tsz Chin

Three Eudemons三個守護神, Oil Painting, 61x92cm

The nature of the sea, land, and air as drawn by the artist's brush incarnate into three dreamlike goddesses. Pure and bright colours make the audience members feel like they are in a fairy tale world. Using the composition of a painting within a painting, the work presents the beauty of the landscape and creatures incisively and vividly, bringing out the artist's vision of cherishing the gift of nature and protecting the environment and animals.

大自然的海陸空環境在藝術家的畫筆下化身為三位夢幻唯美的女神,純淨明亮的色彩令人恍如置身於童話世界。作品運用了畫中畫的構圖,把風景的秀麗和生靈的美好表現得淋漓盡致,帶出了創作者珍惜大自然餽贈,保護環境、動物的願景。

14

S6A

2019-2020

LUK Tsz Chin

Guard 守護 ,Oil Painting,74x109cm

A fawn accompanied by an angel is escaping from Satan's hellfire to the peaceful forest. The work is a hymn to life in the style of Western classical oil painting, using strong contrasting images and tonality to illustrate the concept of good and evil. The respect for the power of life and the law of nature arises spontaneously. The work also triggers a reflection about the role of human: can we strike a balance between development and conservation?

一隻小鹿在天使陪伴下從魔鬼撒旦的地獄烈火中逃往寧靜的溪澗叢林,創作者以西方古典油畫風格譜出一首關於生命的讚歌,通過冷暖色調、善惡形象的強烈對比,令人對生命力量、自然定律的尊敬之感油然而生,並引發關於人類角色定位的思考:我們能否從發展和保育之間取得平衡呢?

15

S6D

2019-2020

HE Chenwei

Silent Wailing 無聲的悲鳴 , Print-making, 18x22cm

Despite living in the same society, some children thrive with care and love, while others face the ugliness of human nature and suffer as if they were living in purgatory each day. This work uses lithographs on kraft paper to create the vintage effect of old photos in newspaper. Scissors, leather belts, and the suffocating hand signify that there are countless victims in the dark who are suffering but are unable to call for help. The artist hopes the work will raise awareness of the issue of child abuse.

儘管活在同一個社會裡,有些兒童在關懷與愛護下茁壯成長;另一些孩子卻嘗盡人性的醜陋,身心受創,每日如同活在煉獄般苦不堪言。這幅作品用版畫形式在牛皮紙上營造出如舊報紙上的新聞圖片效果。剪刀、皮帶和隨時令人窒息的大手,象徵陰暗角落裡其實有無數受害者受盡煎熬卻因各種原因無法求救。創作者希望藉此作品能喚起大眾對虐兒問題的關注。

16

S6D

2019-2020

HE Chenwei

Abyss 深淵, Oil Painting,74x109cm

Why does a scary crowd of crows and bloody evil hands appear in the teaching building? Why does a naked girl have four faces full of fear? This is a surreal painting that depicts school bullying. The abuse, whether verbal or physical, will leave an indelible shadow on the victim for his or her whole life. With a rich imagination and through the utilization of bold elements, the artist reveals that the harm caused by bullying is far greater than imagined.

教學樓內為何會出現使人顫慄的鴉群和血紅的惡手?赤裸的人為何有四張臉,且惶恐不已?這其實是一幅具超現實色彩的校園欺凌寫照。無論是言語還是身體上的施害,都會令受害者一生留下不能磨滅的陰影。創作者以豐富的想象力和大膽的元素揭示出校園欺凌可造成的傷害能比想象中更嚴重。